VOICE & DATA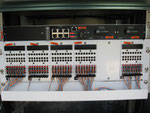 Hayden Professional Services is a full service company that specializes in Data and Telecommunications installation and maintenance.  Our more than 25 years experience, in various aspects of the communications industry, gives us a unique perspective on the needs of our clients.
Hayden Professional Services specializes in Voice and Data Cabling, Microwave and Fiber Optics.  As a specialist in the communication field, Hayden Professional Services can fulfill all of your cabling needs, large or small, at an affordable price.
When expanding or moving your place of business, Hayden Professional Services will decommission, re-install, and optimize your existing telephone systems, computer networks and peripherals.  We will upgrade as necessary, to fulfill your expanding needs, working outside of normal business hours if required.  Our job is to make your transition as easy as possible.
Hayden Professional Services uses quality components, certified technicians and proven technical skills to meet and exceed government and industry standards.
Network cabling and certification is a specialty here at Hayden Professional Services.  Today's dynamic business environment demands that facilities enable change without affecting workplace productivity.  Our quality work is backed by a team of technicians that will install your system when it will be the least disruptive to your business.
Hayden Professional Services will certify all types of cabling on all topologies.  We will also certify existing cabling when you are looking to improve the speed of your network.
Hayden Professional Services will organize your Data center and Telco rooms by tracing out all of the cables, removing any that are not in use and labeling your existing system.  We will free up valuable space in your hub and make it a more user-friendly place.  This work is performed when your network is in a quiet state, any time of the day or night.  Hayden Professional Services does not charge any premium for working late night or early morning.  We guarantee you will be amazed what a difference it will make in troubleshooting time and expense.