TOWER SERVICES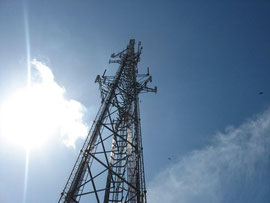 There are three main categories to the tower services department here at Hayden Professional Services, Inc.
      ●    Inspections and Testing
      ●    Tennant Co-location
      ●    Tower Site Maintenance
Our inspection and testing crew has extensive experience in the tower industry.  This gives us the ability to inspect your tower systems quickly and efficiently.  When coupling with our technical staff, we have the ability to test your electronics as well as the integrity of your transmission infrastructure.  All of this gives Hayden Professional Services the ability and the knowledge to complete a high quality site in a very timely manner.
Tennant Co-location has been a large part of the tower construction industry in recent years.  Our detail-oriented crews are equipped to do everything from tower reinforcement and installation of wave guide ladders to extending and testing T1 circuits. We have extensive experience with upgrades for 5/6G
including modifications, switching mounts, removal, replacement of RRU's, antennas, tower top amplifiers, surge arresters, etc..
Site maintenance is the most critical part of the communication industry.  Keeping existing sites operational and easily accessible to your technicians or ours, is a key to lower costs and quality service for your customers.  Hayden Professional Services offers yearly maintenance contracts for communication sites and access roads.  We also offer services to repair damaged towers, buildings, and access roads.  Structural upgrades to towers for additional support, general maintenance such as marker light and beacon repair, and painting are also available by our maintenance team.
Our installation team comes with a catalog of installation certifications:
      ●    PIM and FIBER Testing
      ●    OSHA Construction Safety and Health
      ●    ComTrain Advanced Tower Certification

      ●    Line Sweeping
At Hayden Professional Services, we understand that prompt response to your needs and timely invoicing are critical to running any business.
Hayden Professional Services is equipped to meet all of communication service needs promptly and courteously.