CRITICAL POWER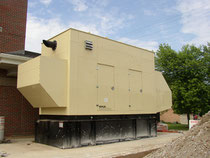 Hayden Professional Services Critical Power Group comes to you with a combined installation experience of nearly 25 years to provide you with prompt quality power installations.  Our installation team is industry certified in Telecom power applications.
Hayden Professional Services has worked closely with our current customer base to provide World-Class Installations, Service and Maintenance programs for virtually all types of AC Power and DC Power Systems.  Hayden Professional Services' EF&I (Engineer, Furnish and Install) Team has a wide variety of experience in both Telecom Power applications as well as Transmission and Tower Construction.
As your single source for Power Quality Solutions, Hayden Professional Services can provide a full range of World Class Services, Total Quality Management through Total Quality Leadership produces Quality service beginning with the EF&I lasting through the service life of the equipment. We at Hayden Professional Services are dedicated to providing you the highest quality installation service in the wireless world.
We are continually exceeding our client's standards and expectations throughout our area of coverage.  Hayden Professional Services' Project Management Methodology coupled with our highly trained staff makes our Critical Power Group a preferred provider of Wireless Installation services.
Critical Power Group services feature:
   ●   Central Office and wireless shelter installations and augmentations
   ●   Infrastructure installations of cable rack, auxiliary framing and
         grounding systems
   ●   Total installation of Primary DC Power Plants, associated cables
         and accessories
   ●   Installation of cabling to include grounding, transmission, tie-pair, and
        other cabling products
   ●   Test and Turn-up of DC Power equipment
We at Hayden Professional Services have a broad knowledge base of Telecom power products with familiarity in just a sample of the following brands:
      ●    ATT                                          
      ●    Tyco                                         ●    Deka
      ●    Avestor                                      ●    Exide
      ●    Reltec                                       ●    Liberty
      ●    Emerson                                   ●    G&B
      ●    Lorain                                       ●    NorthStar
                                                             ●    Alpha
      ●    Argus                                    
      ●    C&D